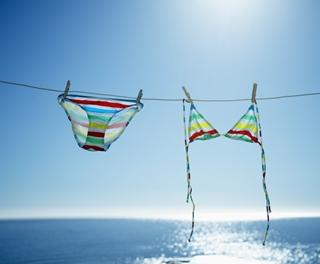 You can try on dozens of different bikinis before you finally find the perfect one. It's the right color, the fit is amazing and the thing just makes you look good. Now that you've finally found the best bikini ever, it's time to take care of it so that it can last for as long as you need it to.
There are two things you need to know about bikinis: they don't like chemicals and they don't like heat. Continued exposure to these two things will speed up how quickly your bikini wears out. With this in mind, rinse out your bikini whenever you can. Many public beaches have outdoors showers that let you rinse off sand and saltwater. Simply rinsing off the saltwater or chlorine can do wonders in extending the life of your suit.
When you do change out of your bikini and it's still wet, don't wrap it up in a towel. The moisture from the suit will get trapped in the towel and generate heat which can degrade the elastics in the fabric. It's always best to let your bikini air dry. Never put it in a dryer.
To clean your bikini, don't even think about putting it in the washing machine, not even in a lingerie bag on the Delicate cycle. Always wash by hand with mild soap and warm water. Again, hang it up to dry.
Most women are familiar with the fuzz that starts to build up on the butt. This happens when you sit on the edge of the pool or on the steps. The rough surface snags onto the fabric and, over time, fuzz starts to show on your suit. To prevent that from happening to your favorite bikini, try sitting on a towel instead.