Unless you've decided to never wear a bathing suit or have a condition where you have zero hair growth anywhere on the body, grooming the bikini area has become a necessity. There is a third possibility which is just not caring if you have hairs peeking out, but most likely that's not the case.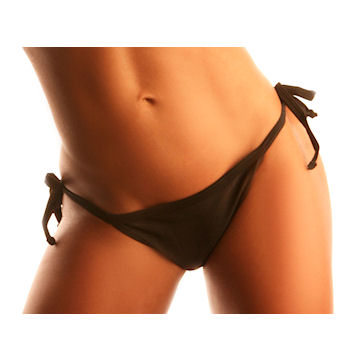 When it comes to hair removal, bikini waxing has become the popular option. This relatively painless procedure is quick way to get rid of hair and generally much more convenient than constantly shaving, plus the results last longer. If you're new to waxing, here are some tips on how to have the most pain-free experience possible.
The first step is to find a spa that you like. Make sure it's an established place with a good reputation, clean and has a friendly staff you're comfortable with. Go ahead and ask for a tour if you're not sure. You're going to be in a vulnerable state while you get waxed so feeling at ease with the facilities and the waxing specialist goes a long way towards calming anxiety. When you do make an appointment, make sure there's enough hair growth to work with (about 1/4 inch) and that it's not before or during your period. Why? Well there's the obvious reason and also that you're more sensitive during that time and waxing could be more unpleasant.
On the day of your scheduled wax, take a shower. It's common sense and courtesy, plus the wax works best on clean and dry skin. To avoid cross-contamination, make sure there's a fresh jar of wax waiting for you. Test the temperature of the wax on the inside of your wrist – it should be warm, not hot. After the procedure is done, a soothing lotion or oil is applied and goes a long way in reducing irritation. Avoiding hot showers and baths is advisable as well since you'll be sensitive immediately afterward. If you're planning to head to the beach or pool, it's best to get waxed a day or two beforehand so you'll have time to let things return to normal. Sand and chemicals can really irritate freshly waxed skin so keep that in mind if you're planning an outing. Remember to exfoliate with a washcloth or loofah as this helps to avoid ingrown hairs from forming.